Mobile app that helps you to:
Monitor skincare routine & skin changes

Track product expirations & learn ingredients

Contribute to the community & consult with experts

Get access to the #skin knowledge base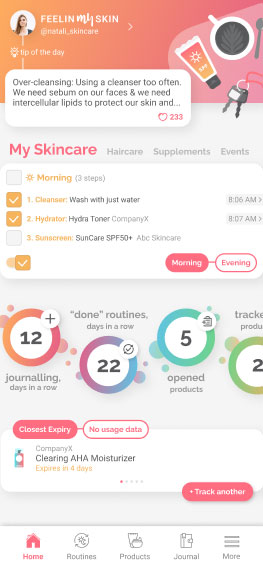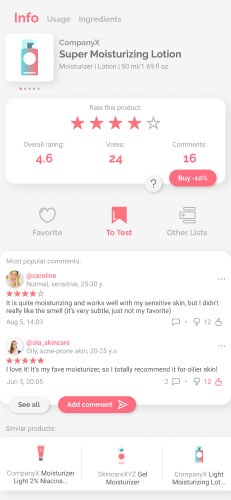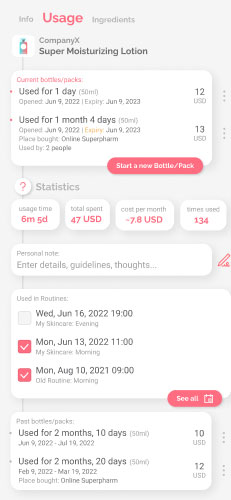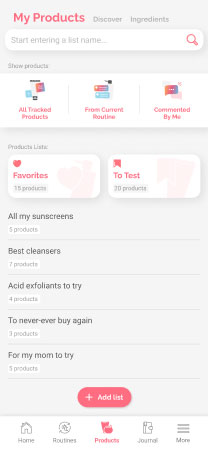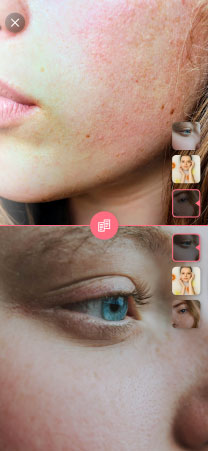 Our Mission
Skin care can get overwhelming with the amount of products available, information overload, and the many steps sometimes required in a truly awesome skin care routine.
With FeelinMySkin mobile app we aim to assist skincare lovers in tracking products history, expiration dates, allergies, learning ingredients, staying consistent with reminders of skincare routine details, finding like-minded people and skincare experts, sharing knowledge and learning ins and outs of skin biology & care.
Make your health your priority - you may as well start with your largest organ — skin.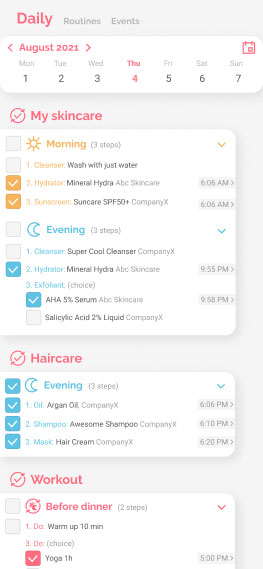 Skincare routines
What products to use, when and how often - delegate your routine to us and we'll remind you the specifics via routine summary and notifications.
Ditch the stress & confusion of over- or under-doing skincare - stay consistent and keep track of what works for you and what doesn't.
Stay consistent with your routine - your skin will thank you in the years to come.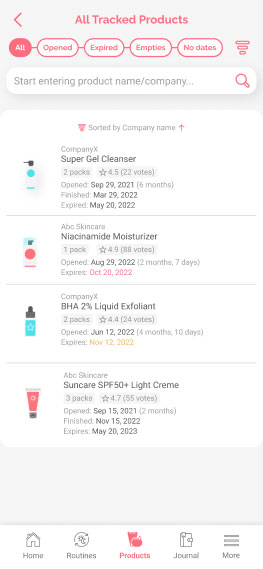 Products & Ingredients
Explore and submit products via our app - read structured reviews, create and share lists of favorites or products to test, learn about ingredients and their purpose. It's not alien language, we've checked ;)
Mark down irritating products and let us cross-reference and calculate the ingredients behind the irritation - tailored just for your skin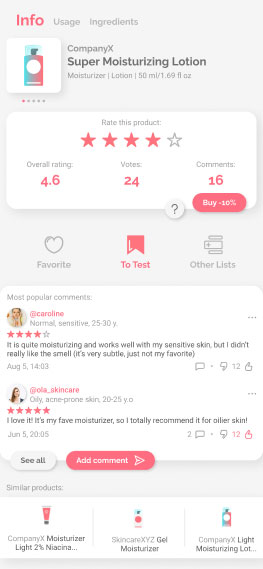 Community and experts
Engage in a community eager to understand skincare and share knowledge.
Get in touch with skin experts, build and share customized routines for friends and clients, ask questions, give and receive advice, and remember to always feel good in your own skin.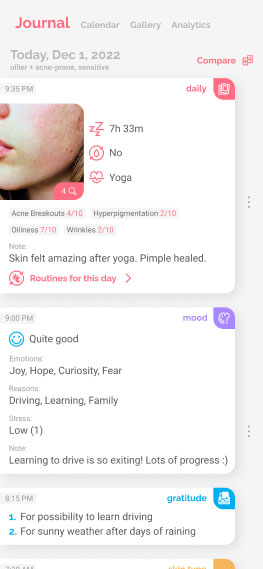 Knowledge base
Get updates on how to get rid of pimples, smooth wrinkles, protect skin from environmental damage and many more skin health topics.
Know the ingredients your skin craves while avoiding ones that are better left in the jar. #Skincare101 explained simply, with additional know-how for more advanced skincare lovers.
With patience, consistency and eagerness to learn you can have the best skin of your life.
The FeelinMySkin app
is here to assist you with your skin health and care.
We motivate and encourage you to achieve your personal
#skingoals
with our help and a community of like-minded skincare lovers.
Skincare isn't rocket science. It's not an alien language.
Do not over-complicate the process,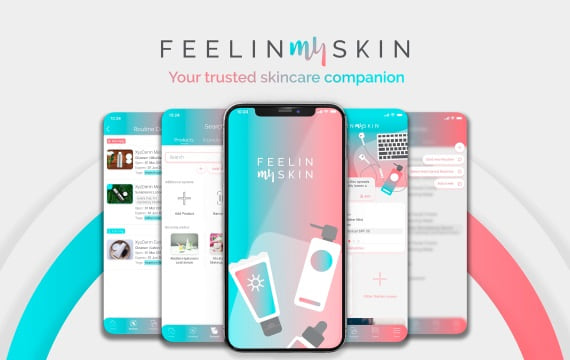 Support the app
The first version of the app is live - yay! That's just a start, we work on expanding the features, product & ingredient database, as well as skincare content.
Delivering & constant development of the app costs a lot of money, time & effort. It would be awesome if you considered subscribing in the app or supporting us on Patreon :) This drives app development, helps us cover the costs of hosting the application & product database.
You can also show us the support by spreading the word about the app, rating & commenting on the products in app, following @feelinmyskin on Instagram & Facebook, liking & sharing our posts - THANK YOU & see you in the app! :)
"As an average consumer there is SO much confusing information out there, it's so great there will be an app to help cut through all of it! As an Esthetician I know the best thing you can do for your skin is have a consistent routine, finally something to help with that!"
"Finally skincare is decoded. This is the only assistant I need to help me streamline and get the most out of my skincare. As a sales representative and skincare nerd I have everything I need a touch away. Amazing!"
"Okay, I'll be honest. I've been waiting for this my whole life! I scheduled my mask day, when to do microneedling, physical exfoliation, and I just forget [to do] most of it."